Well this just seems to have been the busiest year ever and I don't physically have to go out to work anymore!!!!! But of course all the commitments I have for teaching and projects for manufacturers, magazines, shops and design teams really is a job in itself now and keeps me on my toes.
Talking of being busy we had a new baby grandson born to my daughter and her partner at the end of July, went away on holiday in August with my son and family, came home to a period of catch up for DT projects, taught at the fabulous 'In House Crafts' shop in Pembrokeshire towards the end of September and within 36 hours of getting home we were off again for nearly 3 weeks in California and literally 36 hours after our return last week I was teaching for Susan at Country View Crafts. I am so lucky and feel truly blessed to be able to do all of these things and have a wonderful hubby and family around me as well as lots of amazing friends and crafting buddies.
Anyway - I managed to squeeze a few supplies into my case coming home from the USA and of course added to them on my visit to Susan so I have been itching to get back to the work desk. I decided to delve into a little bit of Halloween fun and used one of the new Halloween Worn Wallpaper pieces from Tim Holtz and the packaging it came in to create a spooky panel.
I cut the packaging down to size and added some black distress paint and vintage photo distress oxide round the edging to continue what had already been printed on it.
Taking the worn wallpaper I altered it also with walnut stain and vintage photo oxides around the edges, blending, spritzing with water and dipping them into the watery colours on my mat. I then took carved pumpkin and spiced marmalade oxides and splattered using weatery mixes and also added some white acrylic ink to them to splatter with as well.

Next I gathered some collage layers, die-cuts and a framed portrait to start building my design.
When I got home last week so many of my flowers were still in bloom but starting to fade with the onset of autumn so I gathered some of them and some beautifully turned leaves and dried them in the microwave.
These salvias had been dried and sprayed with DecoArt matte acrylic spray but they were still very fragile. I ended up using DecoArt's decou-page glue to add them to the finished piece then painted some over the top of the flowers, covering it with wax paper and popping it under a heavy box for a few hours. This made them more durable.
Next- huge apologies for the lateness in choosing a winner for my giveaway which should have been chosen quite a few weeks ago - but all those life things above got in the way. I have now entered 15 comments into Random Org to generate a winner and we have -
Congratulations to #13 who is Kate Yetter.
Kate wins the fossil stamps by Andy Skinner.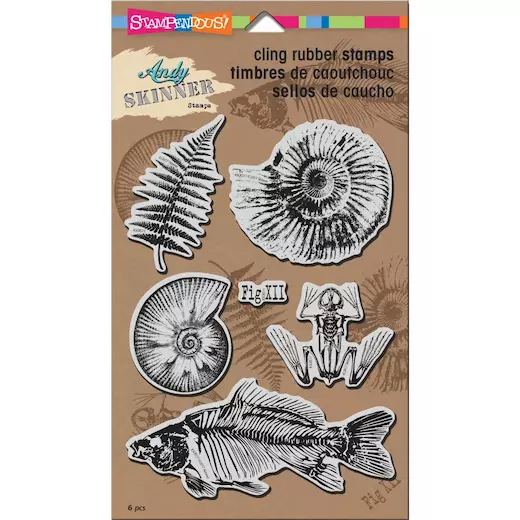 Woo hoo Kate, if you could send me your snail mail address I'll get them in the post to you. My email is on my side bar.
Thank you to everyone who entered I really appreciate your time in visiting my blog and leaving a comment.