For my 'Anything Goes' sample over at the Tando Creative blog I have used one of the pieces from my first ever experiments with the new DecoArt Pouring Medium.
There are some videos available to see on the DecoArt blogs
here
,
here
and
here
and of course google or search acrylic pours and/or look on youtube for ideas and help with techniques.
Process Steps
I chose my colours ....
.... and mixed them with the pouring medium. I then carefully tipped them into one cup to make a 'dirty pour'.
I tipped it upside down on the substrate.
This was the result. I decided it was rather sea like so that became my theme.
Next I stamped and masked the bottom of the tag using some Andy Skinner stamps (Fossils) ...
... and added a little colour using the media fluids and a little tinting base.
I found a painty scrap of card and stamped the gorgeous octopus from France Papillon's Illusionary Artists Creepers and Crawlers set and added some white paint spots then gave it a wash of paynes grey.
It was here I decided to test out the clear modeling paste and the faux encaustic look and scraped some over the top of the tag and embedded the octopus into it. I also added some small flat backed glass cabochons. (sorry photos went missing).
I had used distress ink to edge the jelly fish and I love how it moves with the wet modeling paste to create a sort of shadow around the creature.
I added some remnant rubs and I carved the word 'sea' with a pencil then inked it with a black posca pen. I could have given this another coat of the modeling paste here but decided to leave it as it is. So with a painted vintage brad and some baker's twine it finally came together.
The creature looks suspended over the background which is precisely the look I wanted.
I'm really pleased with the look again of this acrylic pour and faux encaustic piece of art.
What do you think?
Before I go ...............
Thanks to the lovely people at
DecoArt
I have a set of the fabulous Fossils stamps to give away.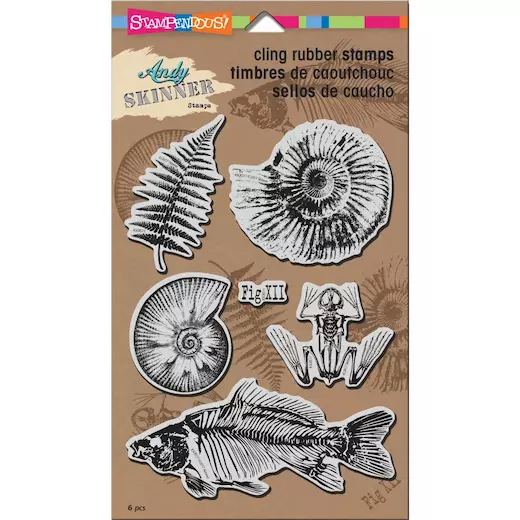 Leave a comment below and you will be entered into the random org draw. The closing date is Saturday 1st September at midday BST and the winner will be announced on Monday 3rd September.
Good luck.
xxx